Our patio washing services are performed by knowledgeable and trained technicians.
Having a patio on your Westport, Connecticut property comes with a few appealing benefits. You always have a designated place to entertain guests, and it's an especially appealing spot when the weather is pleasant outside. If you want to start your morning in a peaceful place, the patio is a great location for that, allowing you to listen to the birds chirp and enjoy the sunshine.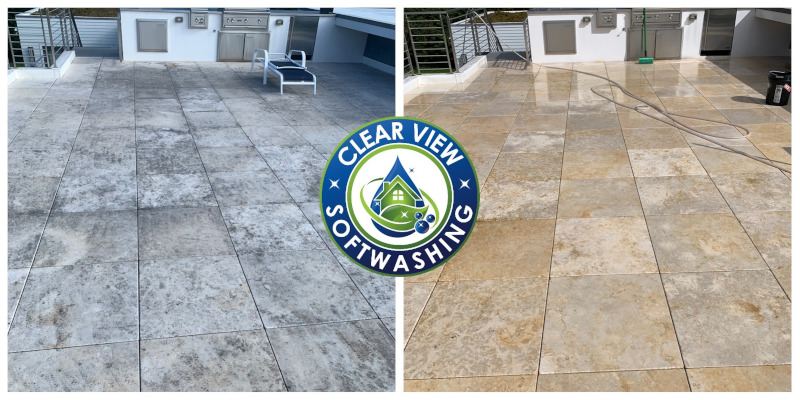 When you're grilling up your favorite meals or dining al fresco, you can take advantage of your outdoor living space as well. But over time, a highly utilized patio tends to take a beating. Its surface can get stained with the dirt and grime found outdoors, as well as food crumbs and spilled beverages.
Cleaning your own patio with a hose and soap likely won't yield the results you want, as most indoor cleaning products aren't very effective against outdoor contaminants and tough stains. But with the right cleaning method, you can have a clean and inviting patio once again.
Our team at Clear View Softwashing can take on the task of patio washing at your home, utilizing the softwashing method to get rid of unsightly stains and unpleasant contaminants. This method is gentle enough for use on any surface, yet incredibly effective. It will also deliver longer-lasting results than other cleaning methods, giving you a cleaner patio for you and your family to enjoy.
Our patio washing services are performed by knowledgeable and trained technicians. If you have any questions for our team about patio washing or any of the exterior cleaning services we offer, don't hesitate to give us a call.
---
At Clear View Softwashing, we offer patio washing services in Westport, Trumbull, Fairfield, Weston, Stamford, and Darien, Connecticut.