We use a method called softwashing when performing a roof washing service.
Anytime it rains, hails, or snows in Westport, Connecticut, the roof on your home serves as the first line of defense against these harsh conditions. But over time, the moisture, dirt, and grime found outdoors can start to wreak havoc on the materials used to construct your roof.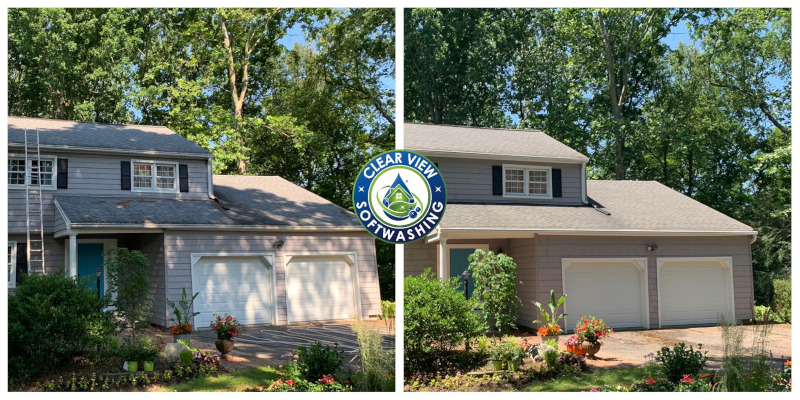 You may not think much about it, as you probably don't spend a lot of time up there, but failing to keep your roof clean can cause a shortened lifespan and other concerning issues. Certain natural growth can even impact the roof's ability to protect your home, which is why it's essential to keep up with regular roof washing.
Not all cleaning methods are safe for use on asphalt shingles, which are one of the most common roofing materials used in the area. Pressure washing can cause damage to your shingles, leaving your home vulnerable to moisture damage. But at Clear View Softwashing, we can take care of your roof without risking this type of damage.
We use a method called softwashing when performing a roof washing service. It's gentle enough to use on asphalt shingles and other roofing materials, but tough enough to remove dirt, mold and mildew growth, moss, and other contaminants. The results of softwashing also last longer than other methods, making it a better way to prolong your roof's lifespan while helping it to look more appealing.
Professional roof washing can make a big difference for your home's curb appeal, but its cosmetic effects are only part of why it's worthwhile. If you'd like to protect your home a bit more fully, contact us to learn more about how roof washing should be part of your regular routine.
---
At Clear View Softwashing, we offer roof washing services in Westport, Trumbull, Fairfield, Weston, Stamford, and Darien, Connecticut.