Boost your curb appeal instantly with exterior house washing.
Take a look around at your neighborhood. Do the houses look dull or like they're covered in dirt and contaminants? Is your home one of them? Whether your home is the lone dirty house on the street or just one in a long line of dirty houses, we can change that for you. With exterior house washing, you can watch your home's appearance improve instantly—and the best part is that your house will retain its clean, bright appearance long after our job is done.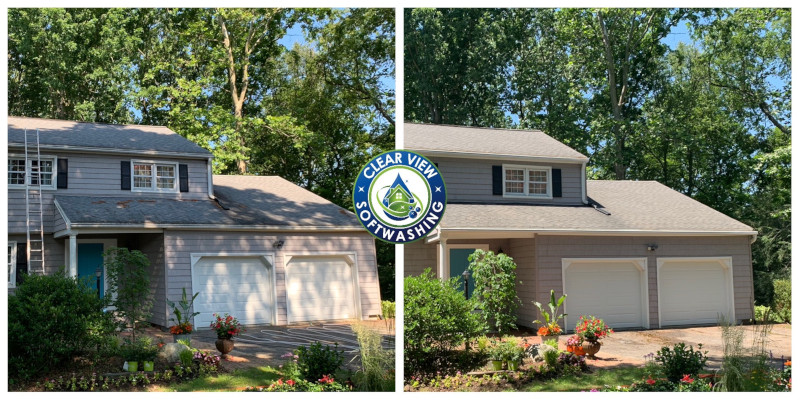 At Clear View Softwashing, our exterior house washing service is something you don't want to miss out on. Instead of pressure washing, which can do more harm than good in many cases, we use soft washing. Soft washing takes a gentle approach to exterior house washing. Using biodegradable chemicals, it emulsifies dirt, breaks down insect nests and webs, and kills contaminants like mold, mildew, algae, and bacteria. The chemical solution is nontoxic and eco-friendly, so you can have peace of mind that you won't be harming the environment.
Because soft washing eliminates organic contaminants, addressing the root of the problem, the results are extremely long-lasting. In fact, the results last 4 to 6 times longer than pressure washing, so you can keep enjoying your home's cleanliness long after we're gone.
When we provide exterior house washing, we take a variety of precautions to ensure the best results. Not only will we protect outlets, but we will also protect your plants. We'll water them before and after the cleaning and apply a "Plant Wash" to keep them fed. In addition, we offer a Plant and Property Protection (PPP) guarantee.
If you need exterior house washing in Westport, Connecticut, request a free quote today.
---
At Clear View Softwashing, we offer exterior house washing services in Westport, Trumbull, Fairfield, Weston, Stamford, and Darien, Connecticut.
Similar Services We Offer: